Where are we?
Alderman Oaks is conveniently located in a quiet residential neighborhood in the heart of downtown Sarasota. We are close enough for walking to activities, yet quiet and peaceful in the midst of a small lovely neighborhood.  Our site has numerous benches positioned under shady oak trees.
Our location in downtown Sarasota makes it easier for you to stay active doing things you've always done or have always wished you could do. Living downtown makes it easy to catch a movie, meet a friend for lunch, or make a trip to the bank.  
Do you think living downtown close to all the activity is too expensive?  Call us today and find out how Alderman Oaks might be your least expensive way of quality living in downtown Sarasota.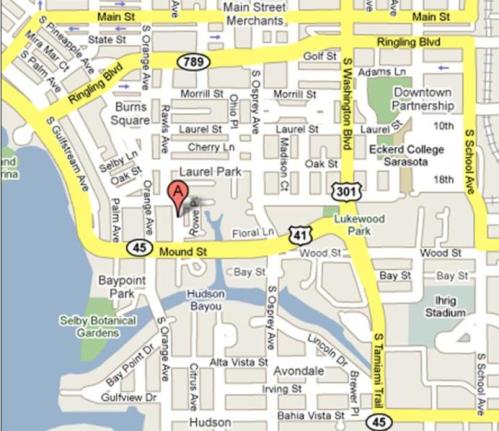 Click Here for Directions.
Loving, caring ownership and staff
Services catering to different lifestyle needs
Active Resident Council and Committees
Located in "Heart" of Downtown Sarasota
Regular Spiritual Opportunities
Flexible Transportation
Exercises, health diets, and access to an on-site Wellness Center
Weekly Happy Hour with Live Entertainment (We dance!)
Just Around the Corner From the Friendship Center
Rental Only Apartments (No buy-in required)
Choice of studio, one bedroom, or two bedroom Floor Plans
Able to transition into Assisted Living if needed