Coronavirus News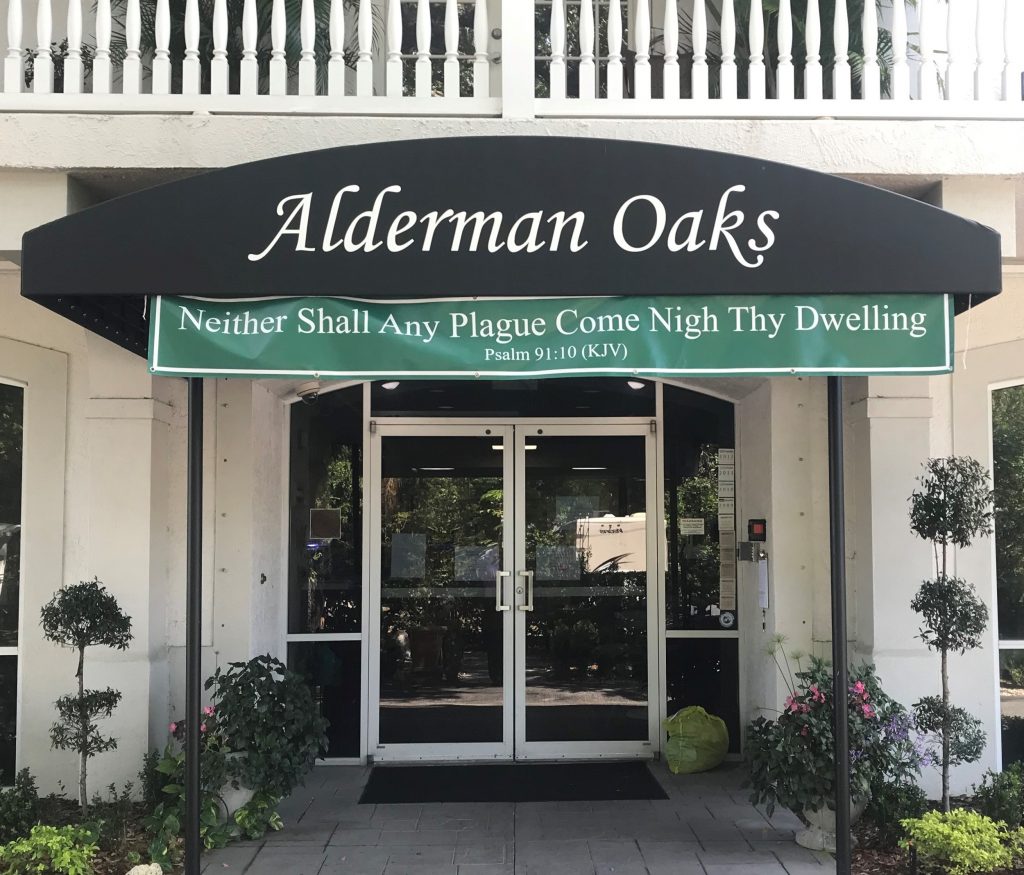 "Neither Shall Any Plague Come Nigh Thy Dwelling"  
Psalm 91:10 (KJV)
Second Series of Vaccinations for Staff & Residents
(Friday, February 12, 2021)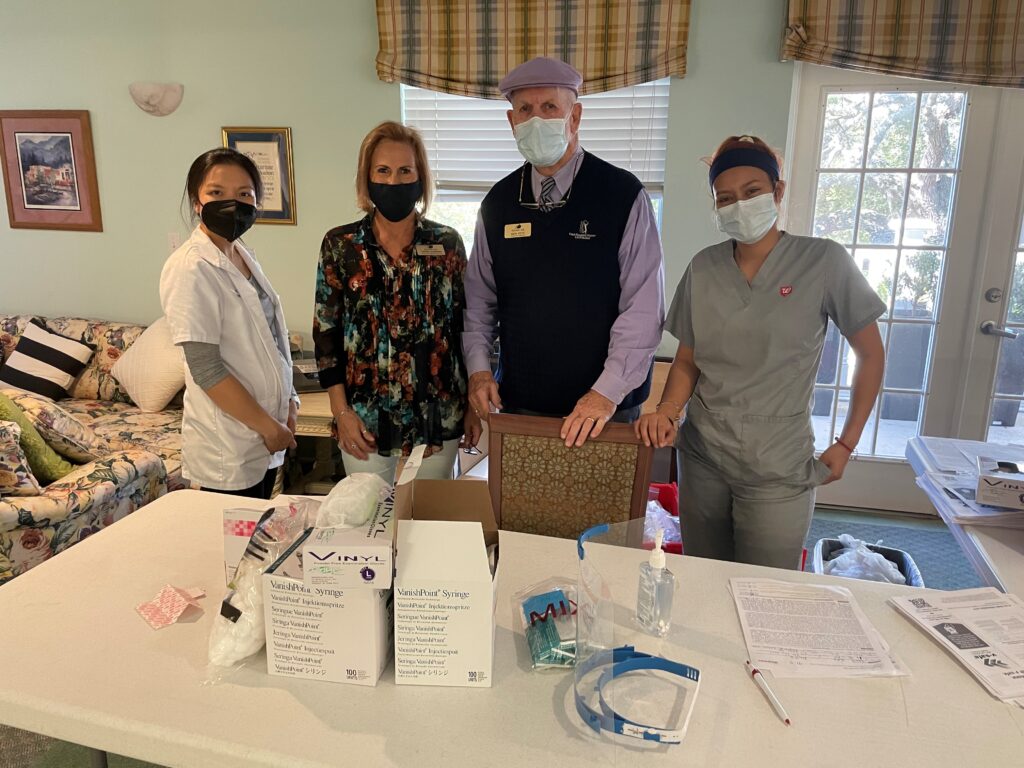 COVID-19 Vaccinations for Residents & Staff
Walgreen's Professionals Partner with Alderman Oaks to Administer COVID-19 Vaccinations to Residents and Staff.
Our current schedule for vaccinations is Friday, January 22, Friday, February 12, and Friday, March 5.
To learn more about our COVID-19 Protocol or to schedule
a tour, please give us a call at (941) 955-9099.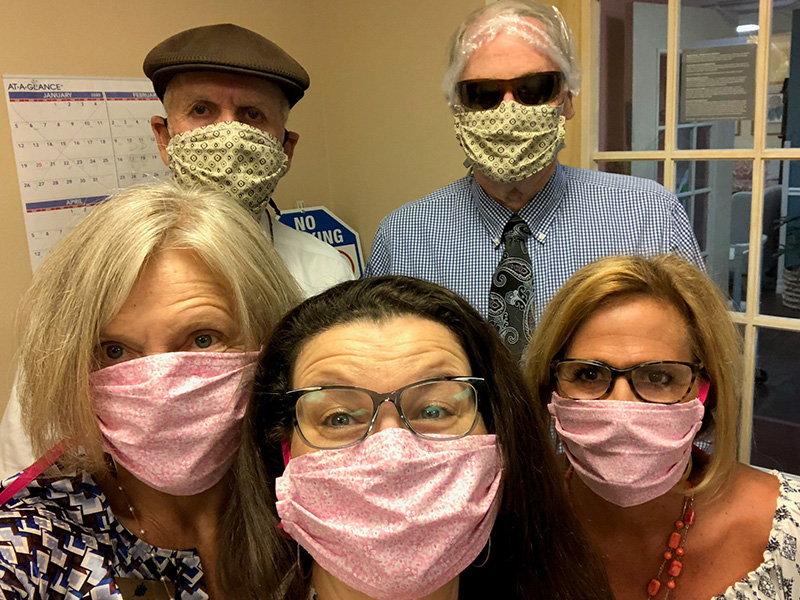 We are excited to announce that we can start allowing limited on-campus visitations in our building with the Governor's new Executive Orders.
We will continue to be vigilant in balancing CDC guidelines, state regulations, and common sense practices to ensure safety and good health while enhancing the quality of life for our residents, families, friends, and professional supporters.
Feel Free to Contact Us to Learn More About the Details.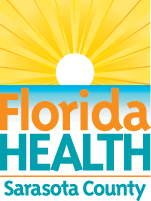 Click Here for Sarasota County
Department of Health COVID-19 Information.

Click Here

for Florida Division of Emergency Management
State-Supported Testing Sites.
SARASOTA COUNTY COVID-19 HOTLINE — 941-861-2883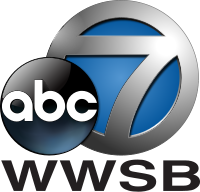 Elder Care Facilities on the Suncoast Continue
to Take Necessary Precautions Following
Spike in Coronavirus
By Rick Adams, Tuesday, July 7, 2020
Click Here for Printable Article
Click Here for Online Article
Click Here for ABC 7 Newscast
(Just After Weather, At 2 Minutes/30 Seconds)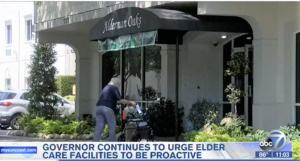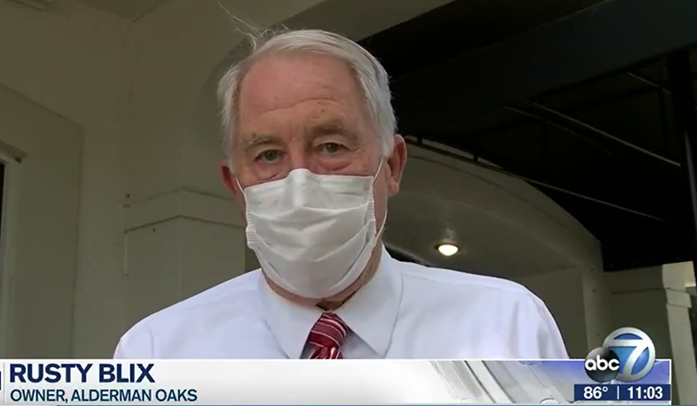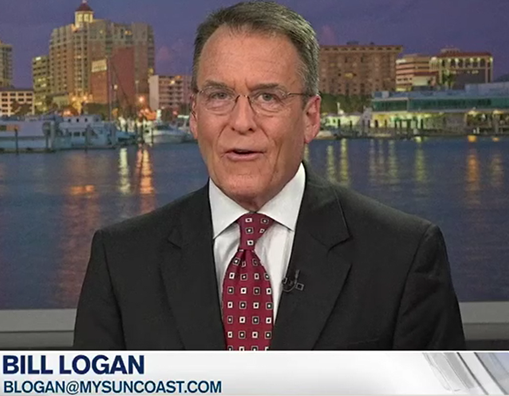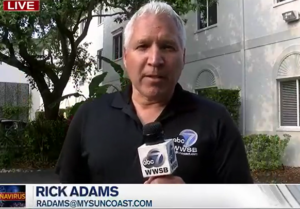 Resident Testing by PHYSICIANS STAT LAB
(Wednesday, July 29)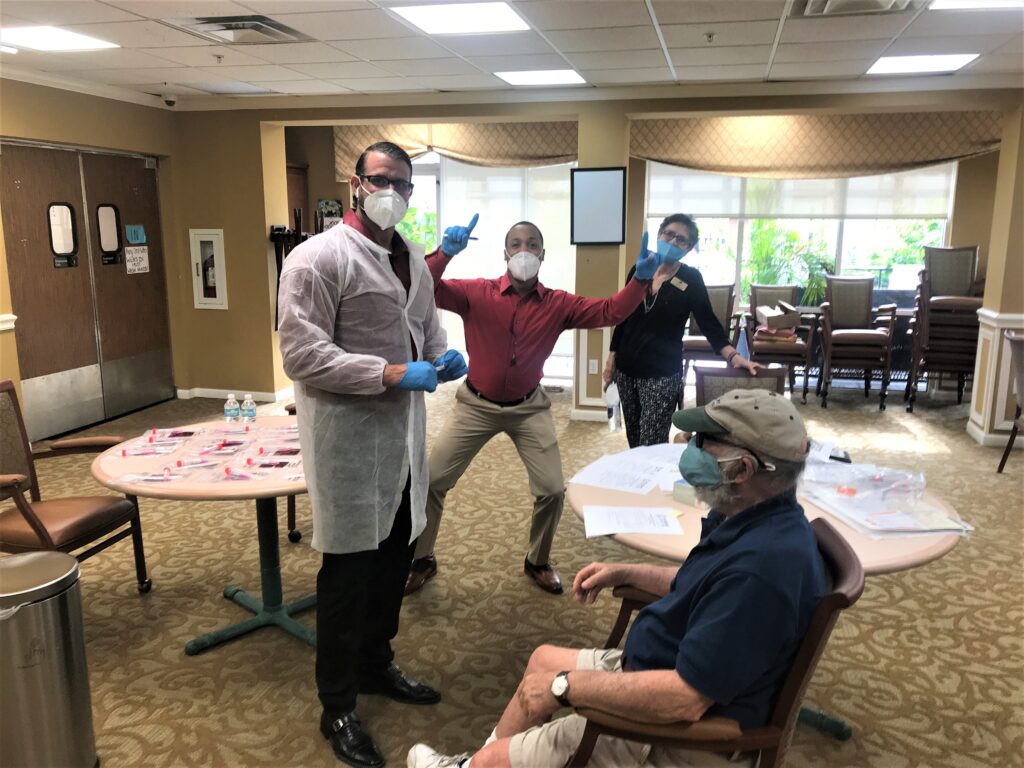 Florida Department of Health Testing of Alderman Oaks Residents
(Monday, July 14, 2020)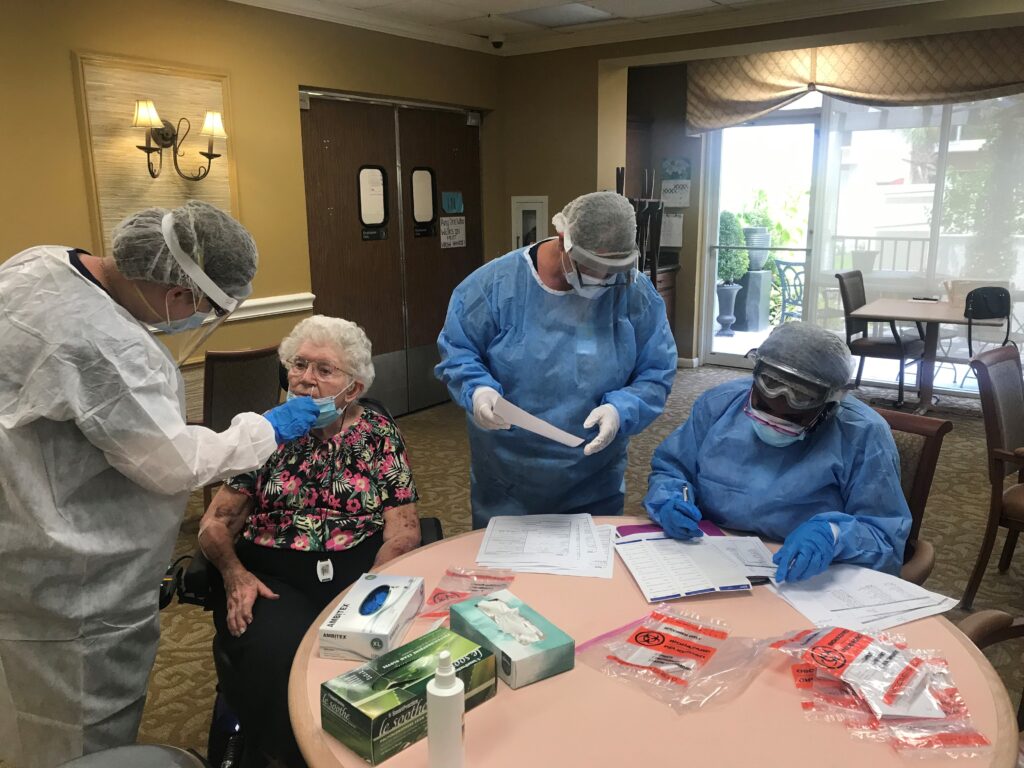 Recent Family & Friends Zoom Call
Organized by Activities Department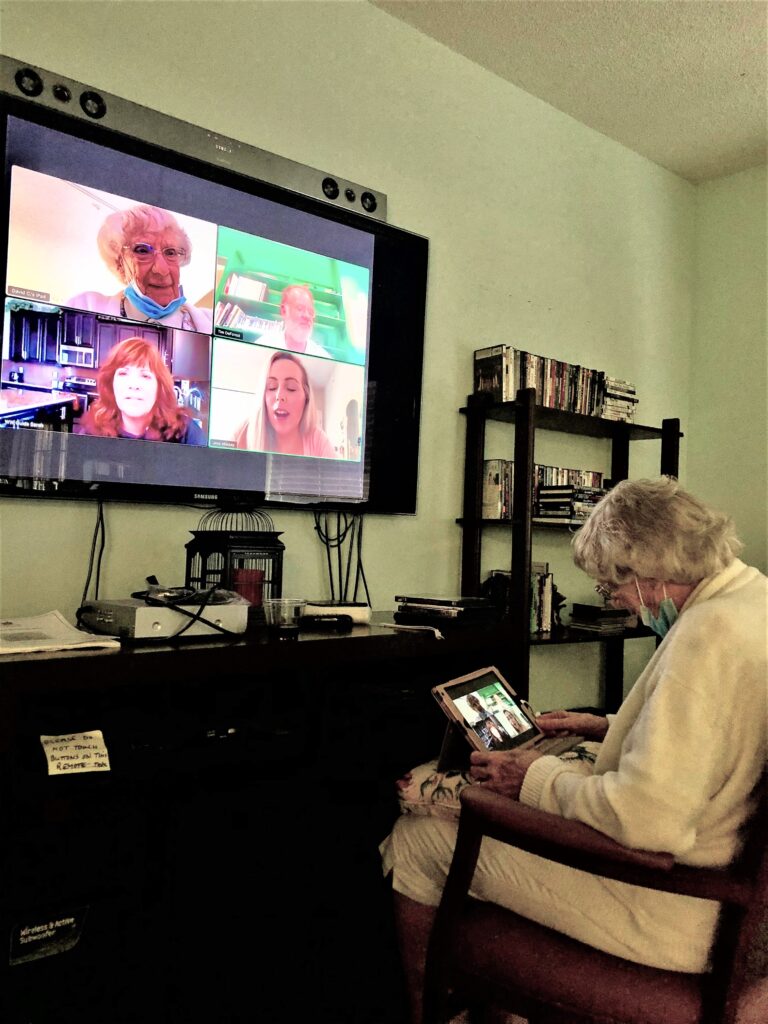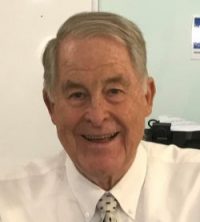 What Will the Future Look Like for Assisted Living
After the Worst of the Pandemic
(June 10, 2020)
Click Here for Blog Article.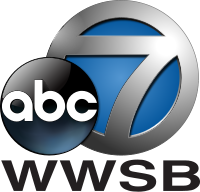 New State COVID-19 Testing Site For All Age Groups
Extended Beyond Original Sunday, May 31 End Date
Robert L. Taylor Community Complex in Sarasota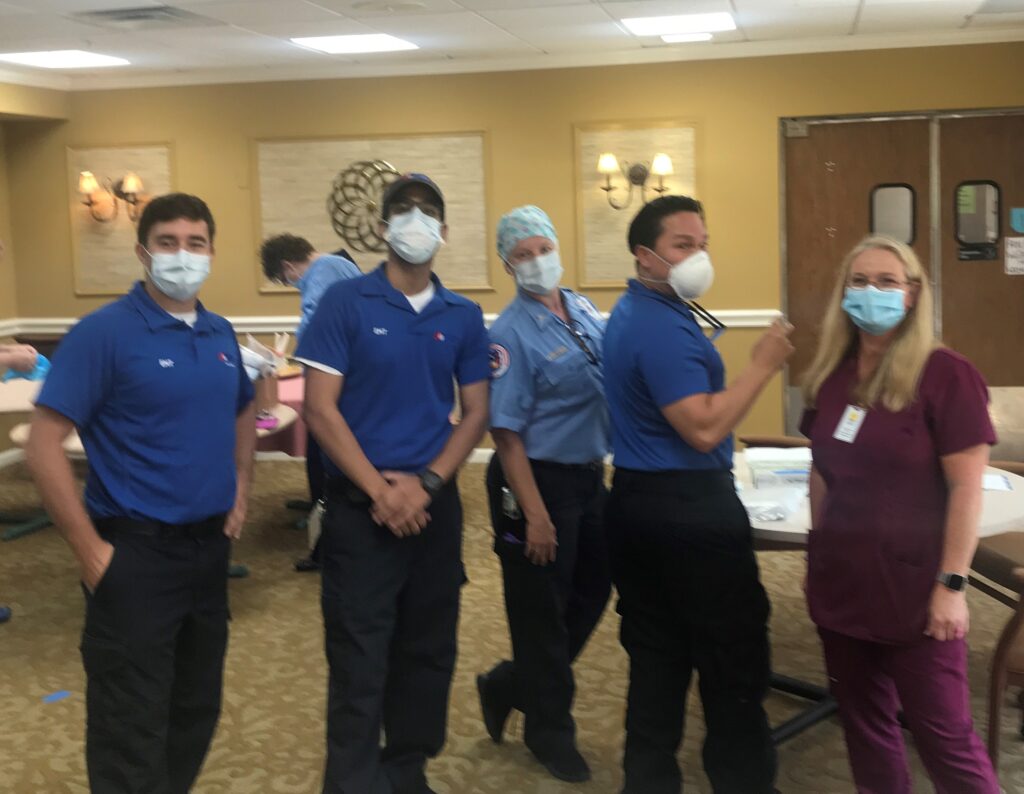 FL Department of Health (DOH)
Region 6 COVID Testing Team
Alderman Oaks Retirement Residence (Staff & Residents)
Sunday, May 31, 2020
Click Here for More Information.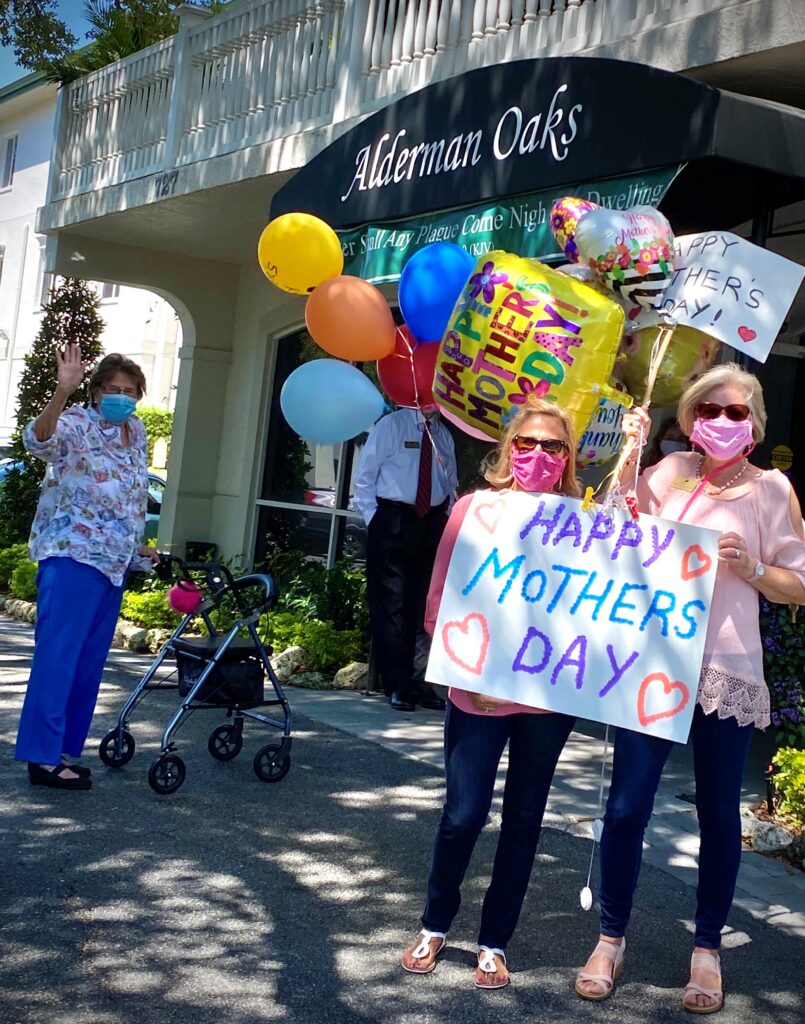 Pre-Mothers Day Parade at Alderman Oaks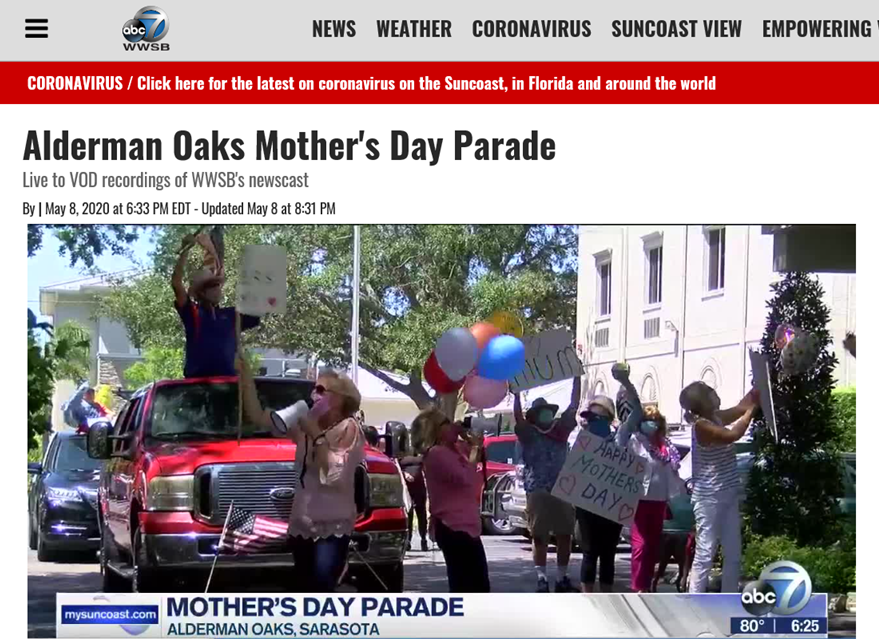 Click Here
 to go to Online ABC 7 Article.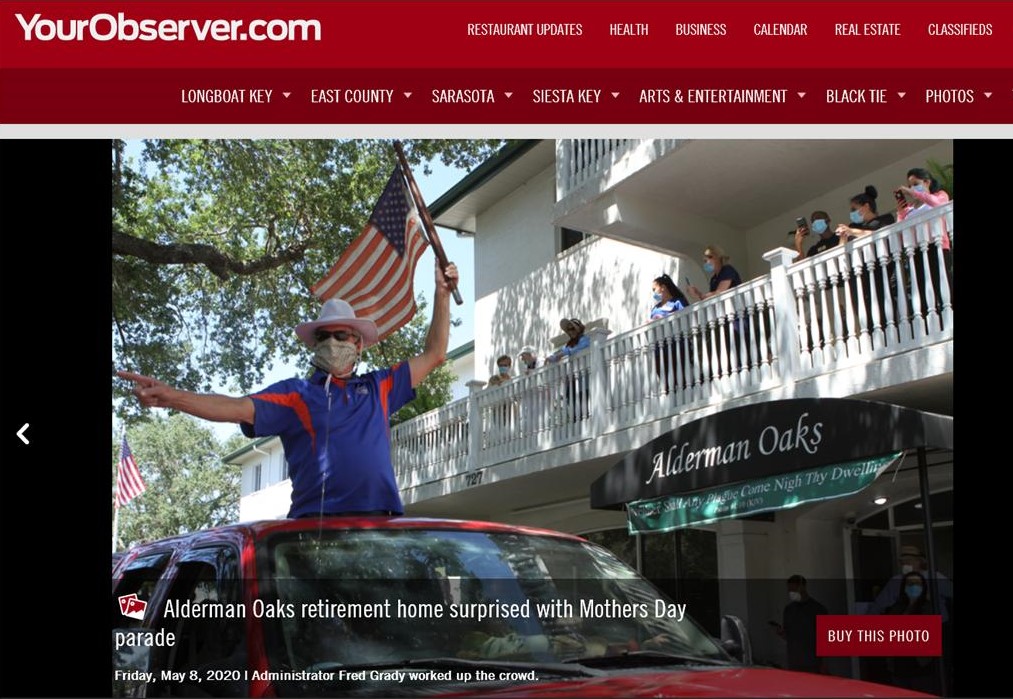 Click Here to go to Online Observer Article.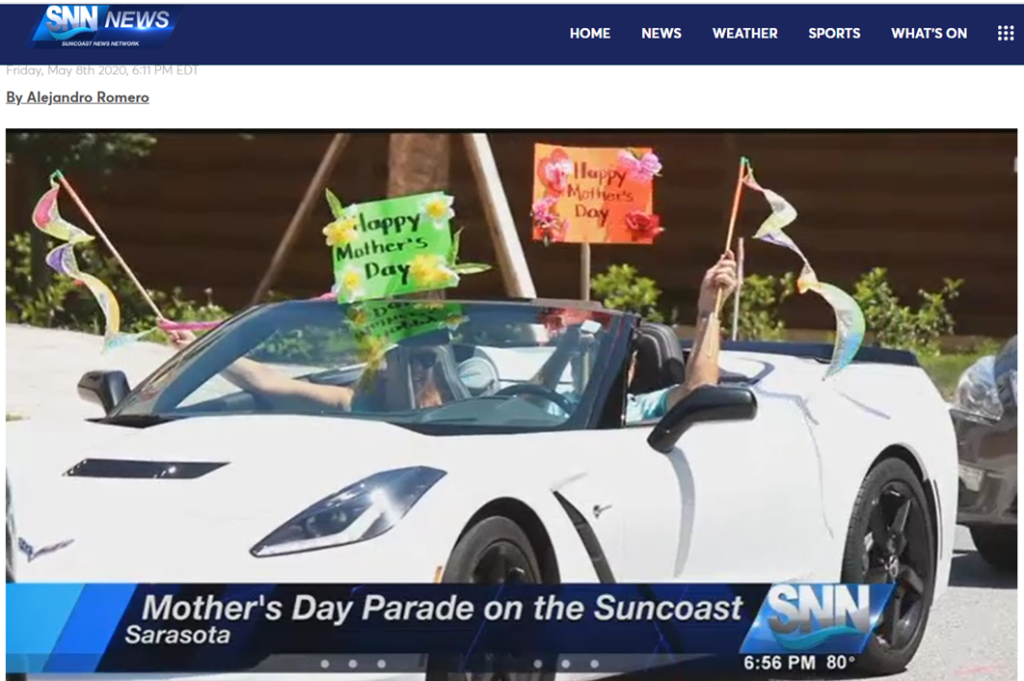 Click Here to go to Online SNN News Article.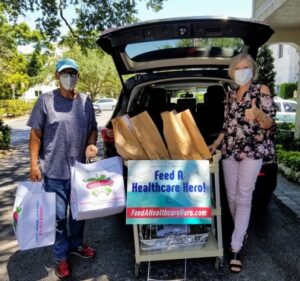 Feed A Healthcare Hero!
Our thanks to Ana Varone, REALTOR with Michael Saunders
& Company and the Feed A Healthcare Hero! Team for
recently providing lunch from Gecko's on Clark Road.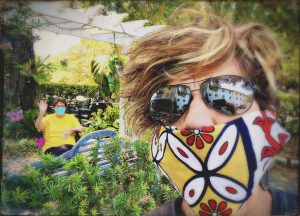 Photographer Barbara Banks, Daughter of Resident
Bettye Banks, in the Garden at Alderman Oaks


"Our New Normal: Scenes From a Masked Sarasota"
Photography by Barbara Banks — 4/24/2020
As Sarasota adjusts to a new way of life under the cloud of COVID-19 pandemic-including social distancing, mask wearing and sheltering at home-we want to shine a light on how the region is coping.
Photographer Barbara Banks snapped these portraits of Sarasotans wearing face masks, as strongly recommended by the City of Sarasota, as they try to go about their lives-sometimes cautiously, sometimes joyfully, sometimes in spite of all the odds.
Click Here to go to online article.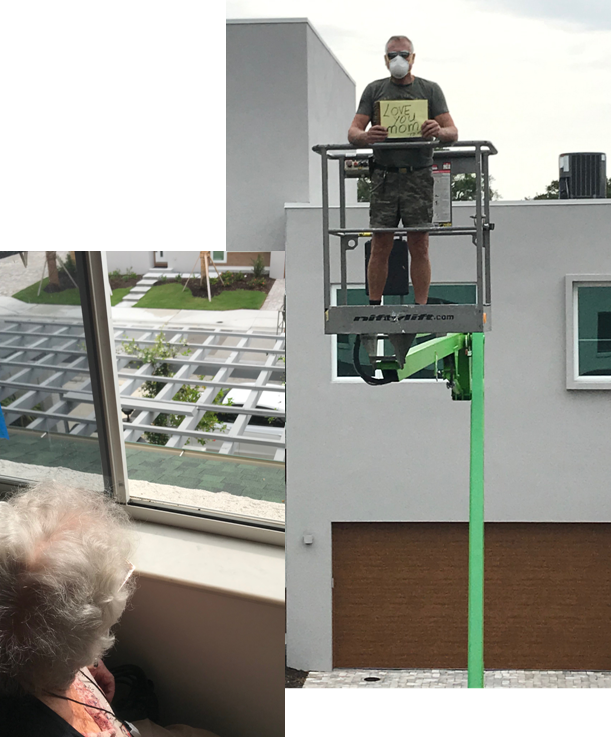 We Take Social Distancing Seriously at Alderman Oaks

Alderman Oaks resident Doris Rumph peering out of her apartment window on Saturday, April 18.
She had a surprise visit from her son Tom, who was being considerate of our social distancing policies.
His sign read "Love You Mom."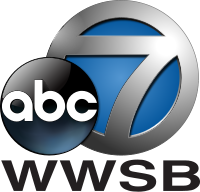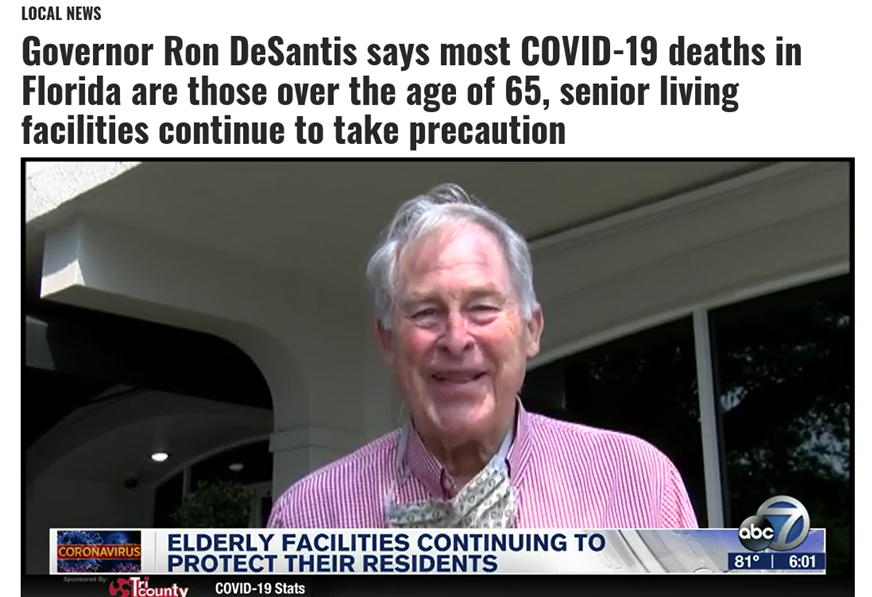 By Rick Adams | April 10, 2020
Governor Ron DeSantis says most COVID-19 deaths in Florida are those over the age of 65, senior living facilities continue to take precaution.
Click Here for Printable News Release.
Click Here for Online News Release.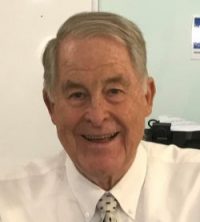 How Alderman Oaks is Coping with the Coronavirus Pandemic
– Reasons to Move Into A Furnished Apartment
–  Short-Term Stays Through the Crisis
–  Safety, Security, and Connectivity 
(April 15, 2020)
Click Here for Blog Article.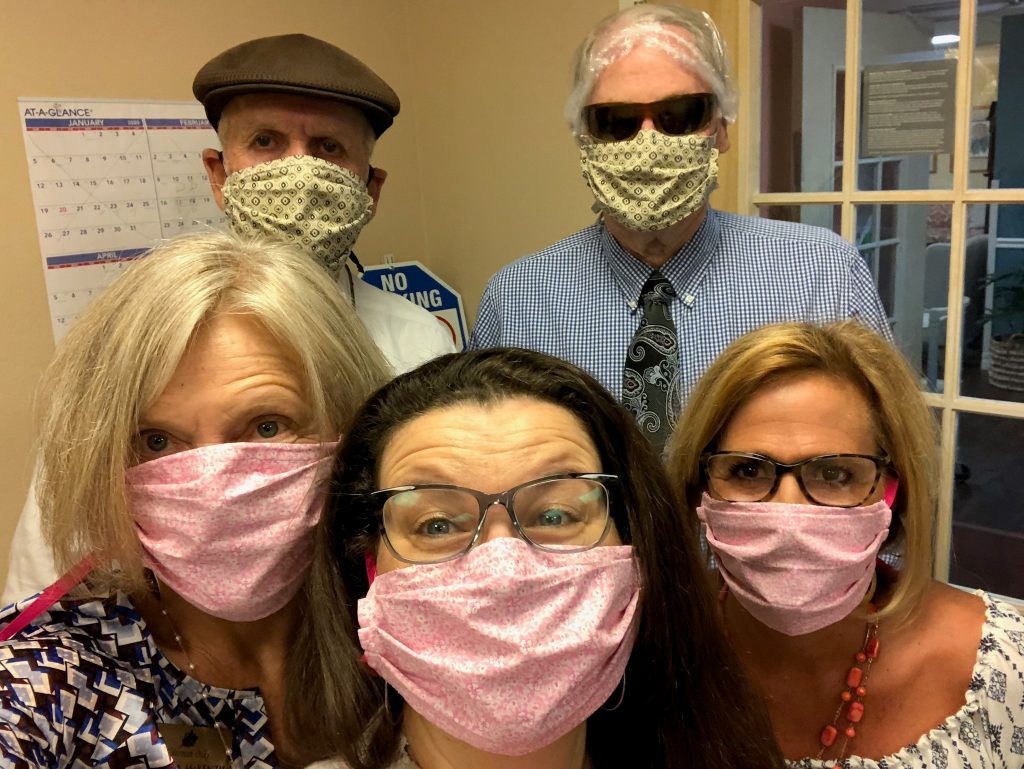 We Take Things Seriously But Still Have Some Fun!
Greetings from Theresa McKenzie, Shirin McComb, Denise Leonhard,
Don Fitts and Rusty Blix
At Alderman Oaks we are going to great lengths to ensure everyone's health the safety.  Our prayer is that this period related to the Coronvirus will soon come to an end with as few aftereffects as possible. 
Due to the high level of call volume, we ask that questions related to the status of Coronavirus at Alderman Oaks be primarily communicated by email (info @aldermanoaks.com).  
Loving, caring ownership and staff
Services catering to different lifestyle needs
Active Resident Council and Committees
Located in "Heart" of Downtown Sarasota
Regular Spiritual Opportunities
Flexible Transportation
Exercises, health diets, and access to an on-site Wellness Center
Weekly Happy Hour with Live Entertainment (We dance!)
Just Around the Corner From the Friendship Center
Rental Only Apartments (No buy-in required)
Choice of studio, one bedroom, or two bedroom Floor Plans
Able to transition into Assisted Living if needed