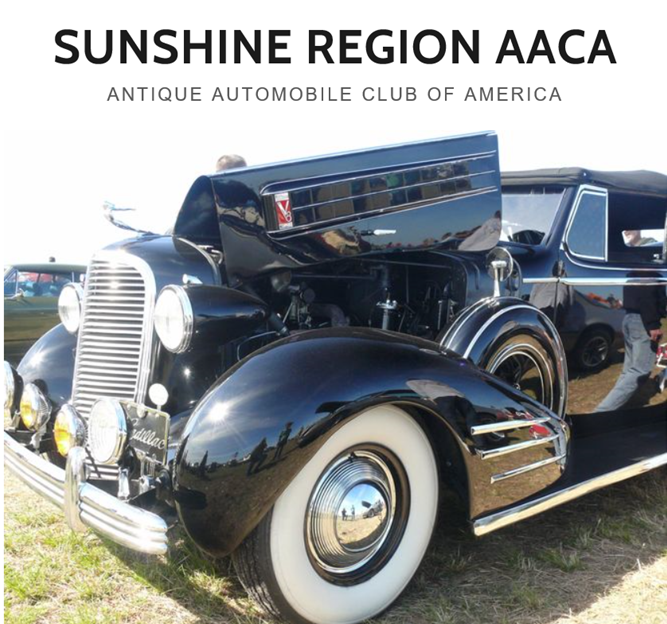 Alderman Oaks Residents, Families, and Friends 
Join Us for a Parade of Antique Cars
Thursday, November 19, 2020 at 11:00 AM
Not Necessary to RSVP
PARADE PRESENTER
Sunshine Region AACA is a Sarasota Florida club of antique car enthusiasts who enjoy gathering, swapping stories, looking at classic cars and touring together. The Sunshine Region AACA, a local region of the Antique Automobile Club of America (AACA), includes members from Sarasota, Manatee counties and surrounding areas.
Member's cars have included: Franklin, Model-T Ford, Model-A Ford, Chrysler, Packard, Cadillac, Saxon, Oldsmobile, Mustang, Buick, Corvette, EMF, Studebaker, Lincoln, Winton, LaSalle, Gardner, Plymouth, Pierce Arrow, Overland, Chevy, Mercedes, Dodge, Thunderbird, MG and VW to name a few. ​
Our goal is to help preserve old cars and the hobby. Anyone interested in historic automobiles and related motor vehicles is welcome to join. You don't have to own an antique car … just share in the passion for them.
PARADE ORGANIZER


Bob Zuhone
President
Sunshine Region AACA
Click Here for Printable Flyer.
Loving, caring ownership and staff
Services catering to different lifestyle needs
Active Resident Council and Committees
Located in "Heart" of Downtown Sarasota
Regular Spiritual Opportunities
Flexible Transportation
Exercises, health diets, and access to an on-site Wellness Center
Weekly Happy Hour with Live Entertainment (We dance!)
Just Around the Corner From the Friendship Center
Rental Only Apartments (No buy-in required)
Choice of studio, one bedroom, or two bedroom Floor Plans
Able to transition into Assisted Living if needed