Area Interests
Alderman Oaks is located in the heart of downtown Sarasota, a significant element of the Alderman Oaks lifestyle is the ability of our Residents to enjoy all of the culture, restaurants, shopping and entertainment in the heart of Sarasota. A plethora of opportunities to go out are presented daily. Whether you enjoy live theatre, movies, a quiet stroll through the Ringling Art Museum or just dinner overlooking Sarasota Bay, your choices are endless.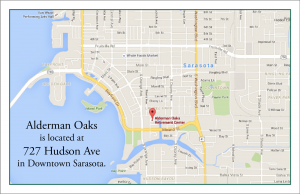 The Friendship Center  is a non-profit with services to meet the needs of people 50 and older, and extend into the community with volunteer opportunities for all ages. Since the early 1970s this organization has led the country in developing innovative, cost-effective approaches to address the health and wellness needs of older adults.
The Mall at University Town Center  is the dominant fashion-shopping destination in Sarasota. The shopping center features many distinctive retailers not found anywhere else in the local market. The center also includes a combination of upscale fashion and lifestyle retailers as well as a selection of sit down restaurants.
John & Mable Ringling Museum
5401 Bay Shore Road
Sarasota, FL 34243
(941) 359-5700
Get Directions
Players Theatre
838 North Tamiami Trail
Sarasota, FL 34236
(941) 365-2494
Get Directions

1993 Main Street
Sarasota, FL 34236
(941) 954-5768
Get Directions
Loving, caring ownership and staff
Services catering to different lifestyle needs
Active Resident Council and Committees
Located in "Heart" of Downtown Sarasota
Regular Spiritual Opportunities
Flexible Transportation
Exercises, health diets, and access to an on-site Wellness Center
Weekly Happy Hour with Live Entertainment (We dance!)
Just Around the Corner From the Friendship Center
Rental Only Apartments (No buy-in required)
Choice of studio, one bedroom, or two bedroom Floor Plans
Able to transition into Assisted Living if needed