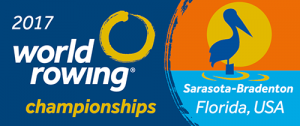 Be sure to visit the Alderman Oaks display during the Golden Age Theme Day on Thursday, September 28, 2017.
We Welcome the World!

For the first time in over twenty years the World Rowing Championships will return to the United States of America at the newly developed Nathan Benderson Park.

Sarasota-Bradenton, Florida is excited to host the 2017 World Rowing Championships. From rowing enthusiasts of all ages to volunteers of all kinds the Sarasota-Bradenton community is ready to Welcome the World.
Whether your interest is as a Spectator, a Volunteer, a Vendor, or a Partner we encourage you to become involved by exploring information through the following links. 

Opening Ceremonies
Family Fun Theme
Saturday, September 23

First Day of Competition
Tech Day Theme
Sunday, September 24

Eco-Day Theme
Monday, September 25


Farmer's Market Theme 


Tuesday, September 26


Military Appreciation Theme
Wednesday, September 27


Golden Age Celebration &
Community Service Theme

Thursday, September 28




Local Attractions Theme
Friday, September 29


Boating & Fishing Theme
Saturday, September 30

Closing Ceremony
Health & Wellness Theme
Sunday, October 1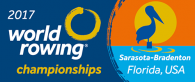 Loving, caring ownership and staff
Services catering to different lifestyle needs
Active Resident Council and Committees
Located in "Heart" of Downtown Sarasota
Regular Spiritual Opportunities
Flexible Transportation
Exercises, health diets, and access to an on-site Wellness Center
Weekly Happy Hour with Live Entertainment (We dance!)
Just Around the Corner From the Friendship Center
Rental Only Apartments (No buy-in required)
Choice of studio, one bedroom, or two bedroom Floor Plans
Able to transition into Assisted Living if needed